If you don't know this is the First Lady of Cameroon, Chantal Biya:
Tammy Faye-Burkina Faso
The Pope's first visit to the Thunderdome
At least once a month he says, "Stop it you're hurting me."
Checkmate! She can move like a King or a Queen
Tranny Tips: It's a guy if you can tell which one is paying for dinner
I can't mention international chick-dudes without mentioning this ma-lady, Andre J:
Yes it's me Abe Lincoln. The Time Machine malfunctioned horribly.
I used to see Andre J alot walking around the Village and Chelsea. So much so, I thought he was my Jim Morrison's Naked Indian. You never look as crazy as asking someone on the street, "Did you see that Abe Lincoln Tranny?"
 
I knew he didn't work because I always saw him during the day shopping, or just wandering the streets. It's not like he could get a city job. After googling "abe lincoln beard tranny" I finally found my answer. Of course, he's a Vogue Fashion Model:
This year is all about bearded trannys and satin snuggies.
Andre J grew up in the projects of Newark. If you grow up in the ghetto and decide to dress like that, cheers! I'd tell him he had a real set of balls, if I didn't think he'd take it as insult.
 
Karnac the Fabulous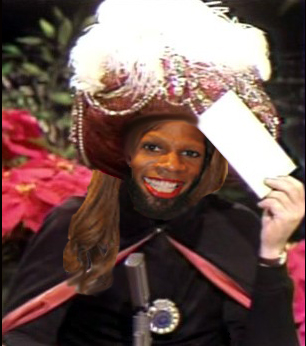 WINDCHIMES
The envelope please. The question is, "What do you call a hermaphrodite's penis."
Here's what Andre says about himself: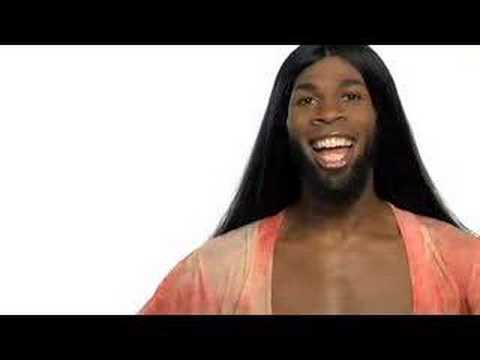 Andre has outgrown America. After living in Austria, he has moved to London. "London to me feels like what New York used to be; I like the creative edge here. And Londoners are go-getters. I like that. I want to be a part of the creative revolution happening here." [full story]
 
Till Andre J returns to America, to paraphrase Lovecraft, "He remains that which lurks."
Scarlett Johansson is trying to win an Oscar
Share: